Welcome To Flash Auto

Hi! My name is Courtney Hines, and I own Flash Auto, located in Albuquerque, New Mexico. With a passion for performance engine parts that lead me to create the world's fastest gasoline powered engine (415mph) and a wealth of collective experience, our team at Flash Auto has been committed to excellence since day one, 42 years ago.
My journey with Cadillacs began back in 1972 when I started working at a local Cadillac dealership. Over the years, I gained hands-on experience with various classic and antique Cadillacs, including an impressive private collection of nearly 200 cars! My expertise extends beyond Cad 500s, as I have worked on models dating back to the '30s, including the mighty V-16 engines.
In 1981, I established one of the largest independent repair facilities in Albuquerque, providing access to state-of-the-art equipment and skilled personnel, including ASE Master Technicians like myself. This infrastructure has been crucial for providing customer satisfaction and the growth of our company.
Our mission for Flash Auto is to provide comprehensive maintenance and repairs. Our cutting-edge facilities, include a 2000 HP dual head water brake engine dyno and a 1200 RWHP Eddy Current chassis dyno. We also are one of the few shops in town handling machinist services.
Our commitment to innovation and quality has driven us to set up a full in-house machine shop to ensure the highest standard of craftsmanship in engine builds. As the owner of Flash Auto, I take great pride in our accomplishments, and I am excited to continue pushing the boundaries of automotive performance.
Customer Satisfaction
At Flash Automotive, we specialize in taking care of our neighbors, one car at a time. Owner Courtney Hines trains all of his employees to meet his high standards of honest and ethical work.
In addition, Flash Automotive's goal is to educate all customers about the importance of a preventative approach to auto repair, a proven way to save thousands of dollars over the life of each vehicle in a household. Owner Courtney and his staff carry that education beyond preventative services, too, and strive to make sure that every customer makes an informed decision about their car's repairs.
We also back up all of our repairs with a 12 month/12,000 mile written warranty on parts and labor, and an available 12 month/12,000 mile nationwide warranty so that you can be assured of prompt and convenient service even if you're out of town.
Whether your vehicle is in need of repairs or scheduled maintenance, Flash Automotive is the best place to come for quality service, integrity and prices that will get you back on the road quickly and affordably.
AAA Approved Auto Repair

Flash Automotive is a AAA Approved Repair Shop, meaning it meets the rigorous standards of the American Automobile Association. A certified shop must meet standards for cleanliness, proper tools, adequate technical training, and appropriate technician certifications.
In addition to having an impeccable repair shop, a certified facility must have a favorable opinion rating amongst its customers.  AAA performs a survey of a significant number of the shop's customers and obtains their opinions "on how well the business meets their automotive service needs." The shop must score at least 90% on each question.
There are only 22 shops in New Mexico and 11 in Albuquerque that are qualified to be  AAA Approved.
State-of-the-Art Technology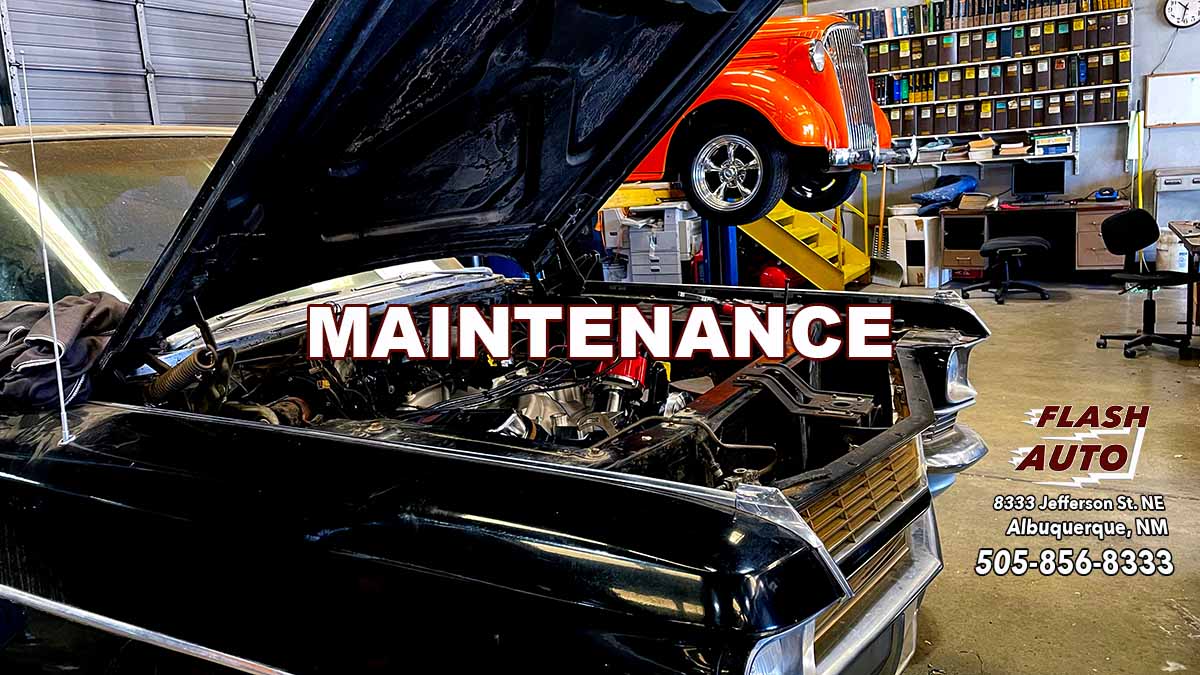 Flash Automotive is proud to use cutting edge diagnostic tools. When used in conjunction with our up-to-date information systems and constant training and certification, we're able to pinpoint both driveability and electrical system failures in the most cost-effective manner possible.
Flash Automotive also offers state-of-the-art dynometer systems, which allow us to test and tune your engine in order to get the best possible performance. The dynometer also allows us to perform road cycle tests, meaning that if your car has failed an emissions test, we can repair the problem and then run your car through all of the cycles needed to perform a reset.
ASE Certified Master Technicians

Flash Automotive employs ASE Certified Master Technicians, a title which means that they are certified by the National Institute for Automotive Service Excellence on every mechanical and electrical component and system.
An ASE Certification signifies a commitment to excellence by a technician. In order to be certified in an area, a technician must take difficult, national tests on the most current methods and models, meaning they must constantly be learning about new technologies as they are developed. Technicians must also re-test every five years in order to keep their certification.
ASE Certified Master Technicians must keep current certifications in eight areas: Engine Repair, Engine Performance, Electrical/Electronic Systems, Brakes, Heating and Air Conditioning, Suspension and Steering, Manual Drive Train and Axles, and Automatic Transmissions. For this reason, Flash Automotive is the place to bring your car for auto repair that you can trust to get it right the first time.
BBB Accredited Repair Shop
Flash Automotive has been an accredited member of the Better Business Bureau since 2001. As a result, Flash Automotive has for years been in compliance with the the highest standards and requirements for operating a business. (The BBB's Reliability Report for Flash Automotive is available on their website for anyone to see.)
Automotive Service Association Member

The Automotive Service Association is the most prominent auto repair association in the country with over 13,000 business owner members. As a member of ASA, Flash Automotive must adhere to a code of ethics which includes employing the best skilled technicians who perform the highest quality work and approaching each neighbor who comes into the shop with the personal care and attention.
Big or small, we service them all!
Flash Auto has some of the cleanest, most well-equipped and largest bays you'll ever find, meaning we can service all of your auto repair and maintenance needs quickly from big rigs to light-duty diesel trucks to motor homes to the family car.